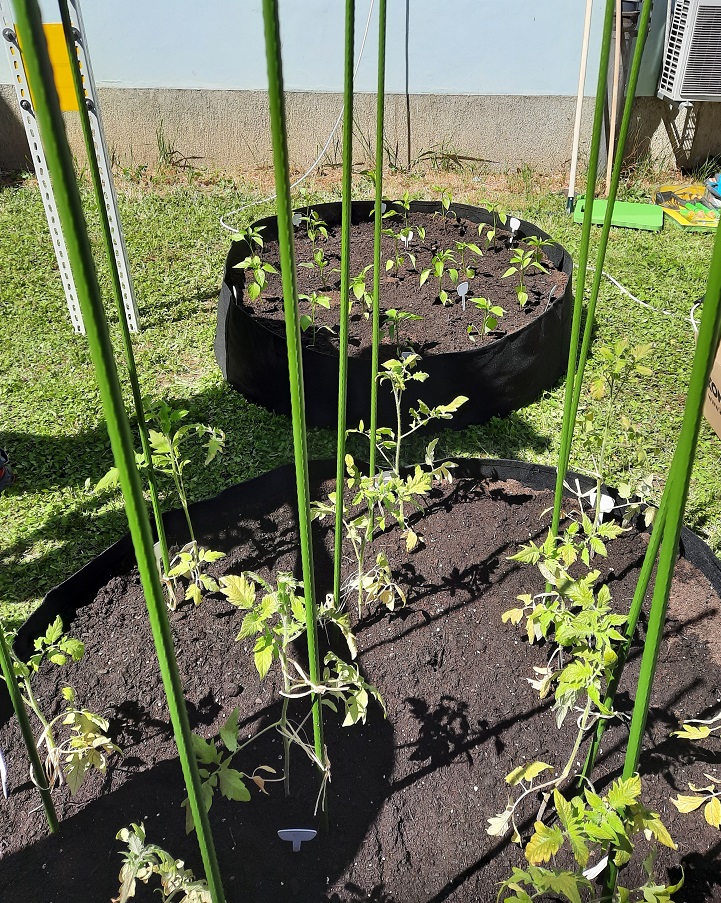 Tomato and pepper garden at FER
On Wednesday, May 26, members of the Internet of Things Laboratory set up a real small garden in FER's backyard as part of the IoT-Field project. Numerous sensors monitor the conditions for tomato and pepper seedlings planted by our University colleagues from the Faculty of Agriculture, University of Zagreb. While planting the seedlings, for the experiment we are conducting, part of the seedlings were enriched with substrate. The aim is to determine the influence of the selected substrate through the collected data from the sensor, plant condition and yield.
Given the effort and attention our garden has, we have no doubt of a rich harvest, and then who knows? Anything is possible, maybe FER registers a family farm as well!
In addition to our professors and assistants, students also joined the set-up process, spontaneously while passing by for which we thank them. Check out how we worked with non-program tools in the pictures below.
The garden was set up as part of the project "IoT-field: Ecosystem of networked devices and services for the Internet of Things with application in agriculture", a three-year interdisciplinary research project in the field of smart agriculture that began in March 2020. It is coordinated by the Faculty of Electrical Engineering and Computing of the University of Zagreb (FER) in cooperation with the Faculty of Electrical Engineering, Computer Science and Information Technology of the Josip Juraj Strossmayer University of Osijek (FERIT) and the Agricultural Institute Osijek (PIO).
The aim of the project is to encourage the application of IoT solutions in agriculture in order to reduce the negative effects of climate change on crop yields of strategic importance for the Republic of Croatia, especially maize. IoT solutions, i.e. solutions that connect sensors and various electronic devices to the Internet, enable continuous monitoring of microclimatic conditions in the field and physiological parameters of the plant, as well as the transfer and processing of collected data in the cloud.
The project team is working on the development of a station for remote measurement of microclimatic conditions in the field and a special sensor for measuring chlorophyll fluorescence that will provide information on physiological parameters and possible stress of the plant. Practical mobile applications for farmers are also being designed, with which they will be able to remotely monitor the situation in the field at any time, determine critical moments in the vegetation and make timely decisions. The entire solution is designed with the aim of achieving a lower price of the station and software system so that it is acceptable and suitable for small farmers, and with the application of current open software solutions.