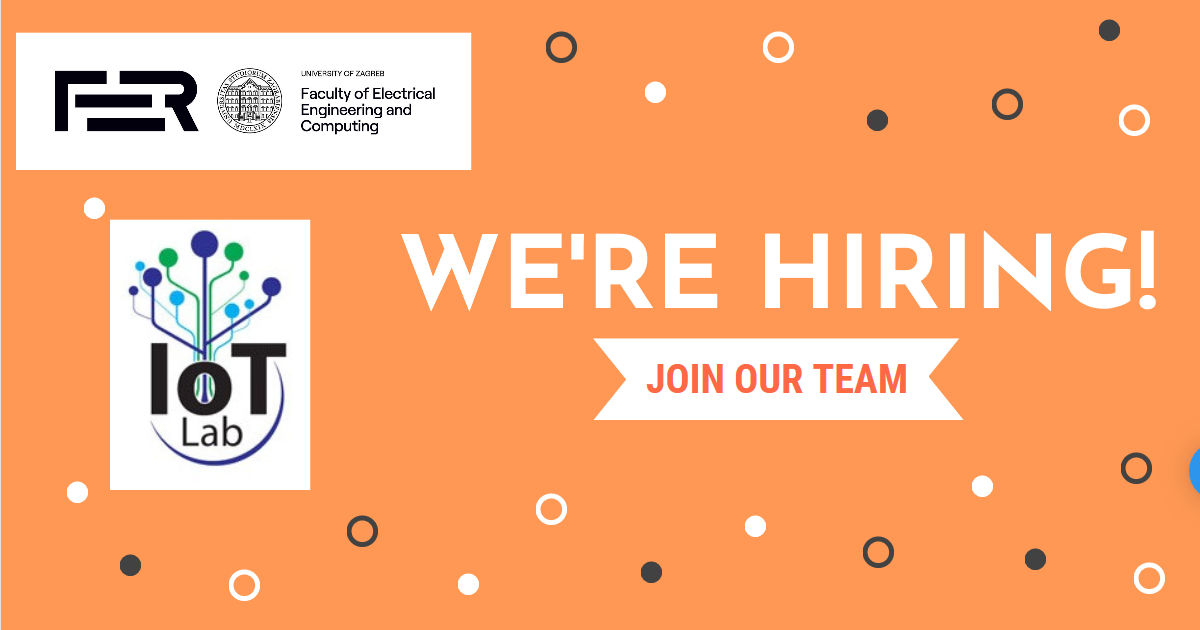 FER's Laboratory for the Internet of Things is looking for a new young researcher who wants to become a doctor of science in the field of technical sciences, computing! Doctoral research will be performed within the context of the project IoT-field: An Ecosystem of Networked Devices and Services for IoT Solutions Applied in Agriculture where the research topic relates to decentralized and interoperable IoT environments that make optimal use of edge/for resources and 5G networks with a goal to efficiently provide new types of IoT services for precision agriculture.
If you want to develop innovative products that will help farmers in the Republic of Croatia to monitor the situation in the field in real time and increase and plan their yields in the context of climate change, then this is the right job for you! You will work with the most modern microcomputer and communication equipment and design, set up and test a wireless sensor network at three locations in Slavonia. In addition, you will use modern software solutions for interoperable IoT systems, data processing at the edge of the network and available open agrometeorological data. If you are interested in Blockchain technology, you can develop a new service to track agricultural products "from-field-to-table".
The official position is named Research assistant in the area of technical sciences, field of computing and is available at the Department of Telecommunications, Faculty of Electrical Engineering and Computing, University of Zagreb. The application is open until August 17th, 2020 and further details for application are available at the following link.
What we offer:
position of research assistant and all rights in accordance with the Croatian Law on Scientific Activity and Higher Education
enrollment in doctoral studies at FER
work with the most modern computer and microcomputer equipment which is procured within the project
work in a motivating and stimulating environment with an interdisciplinary project team with international references
the possibility of training and participation at international workshops and scientific conferences
What we are looking for:
a motivated Master of Computer Science/Engineering who wants to deal with scientific and technical challenges in the field of the Internet of Things
The candidate must meet the requirements for enrollment in doctoral studies at FER
Excellent knowledge of Java and C / C ++ programming languages, and knowledge of Python, JavaScript and web technologies is desirable
knowledge of the basics of distributed systems
knowledge of the basics of IoT systems: architecture, protocols and technologies (MQTT, CoAP, NB-IoT, LoRaWAN)
Knowledge of the implementation of microservices and the basics of the Spring program framework is desirable
Prospective candidates are kindly asked to send an email with their CV and motivating letter to the project PI Prof. Ivana Podnar Žarko prior to formal application for the position.