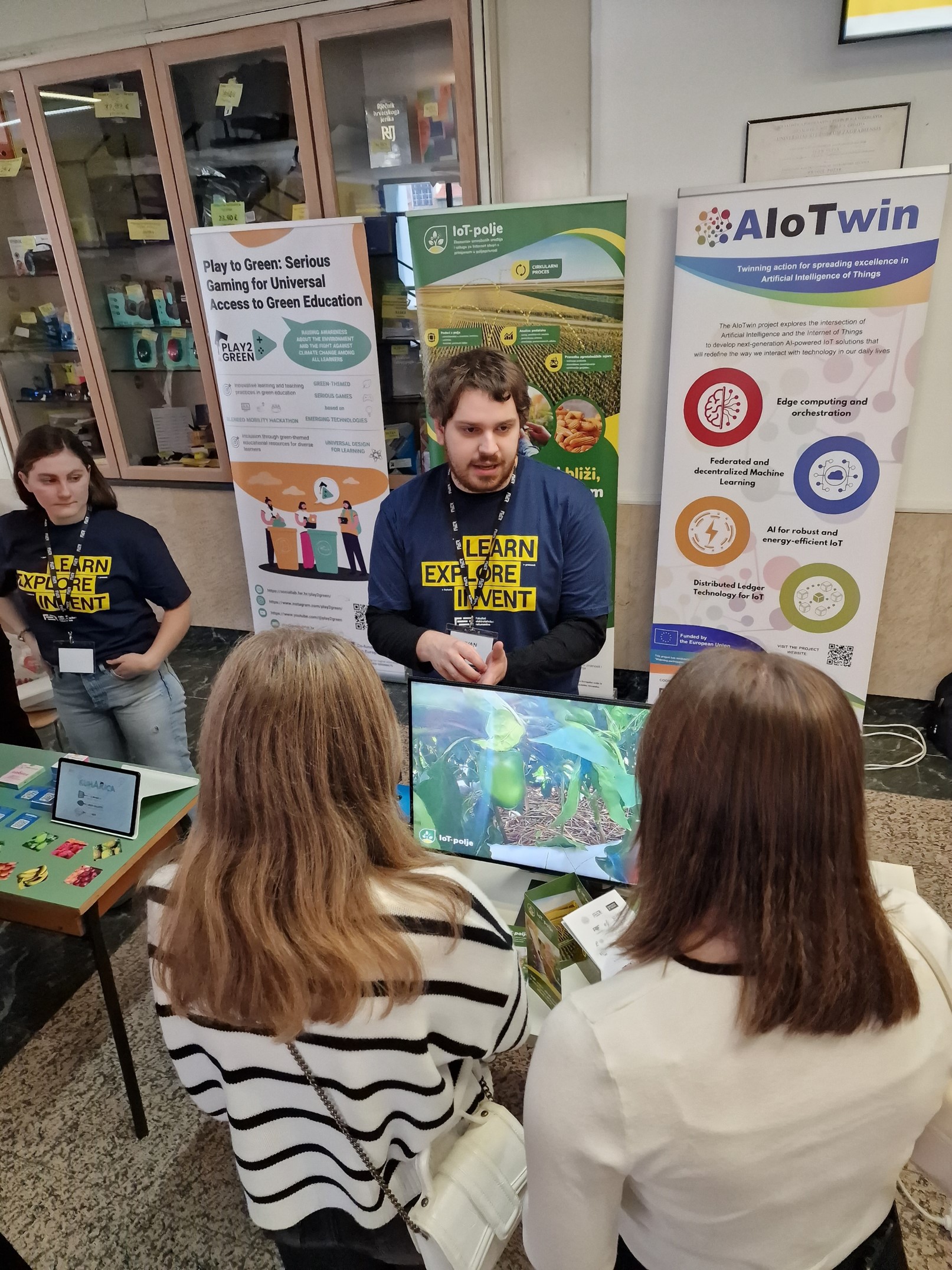 On Saturday, November 25, 2023, the Open Doors Day of the Faculty of Electrical Engineering and Computing (FER) took place and attracted numerous visitors. This event offered the public, especially high-school students, the opportunity to explore the study programmes available at FER and learn about the ongoing research projects. Numerous departments and laboratories showcased their work, including the Internet of Things Laboratory.
Assistants Ivan Kralj, Katarina Mandarić, Ivan Čilić, Dora Kreković, and Mislav Has presented the recently completed IoT-field project, which encompasses a comprehensive IoT solution from sensors through an interoperable platform to a user application for monitoring crops and meteorological conditions in the field. Attention was also drawn to the urban garden set up in the FER courtyard and the quantity of the harvest.
Visitors were particularly interested in the involvement of students in projects, and it was emphasized that, over the course of more than 3.5 years of the IoT-field project, students were actively engaged, resulting in a significant number of group projects, as well as undergraduate and graduate theses.
In addition to IoT-field, we presented the AIoTwin project, highlighting our collaboration with technical universities in Vienna and Berlin, as well as the RISE research center in Sweden. A new concept, the Artificial Intelligence of Things (AIoT), was introduced and explained. AIoT brings artificial intelligence into our physical environment and removes the boundaries between the physical and digital worlds, opening up new possibilities for device intelligence and autonomy in the physical environment.
Furthermore, assistants shared their experiences and impressions from their undergraduate, graduate, and doctoral studies with the visitors, mostly high school seniors and eighth-grade elementary school students.
This Open Doors Day of FER has, traditionally, proven to be extremely informative, contributing to the promotion of studies and science.