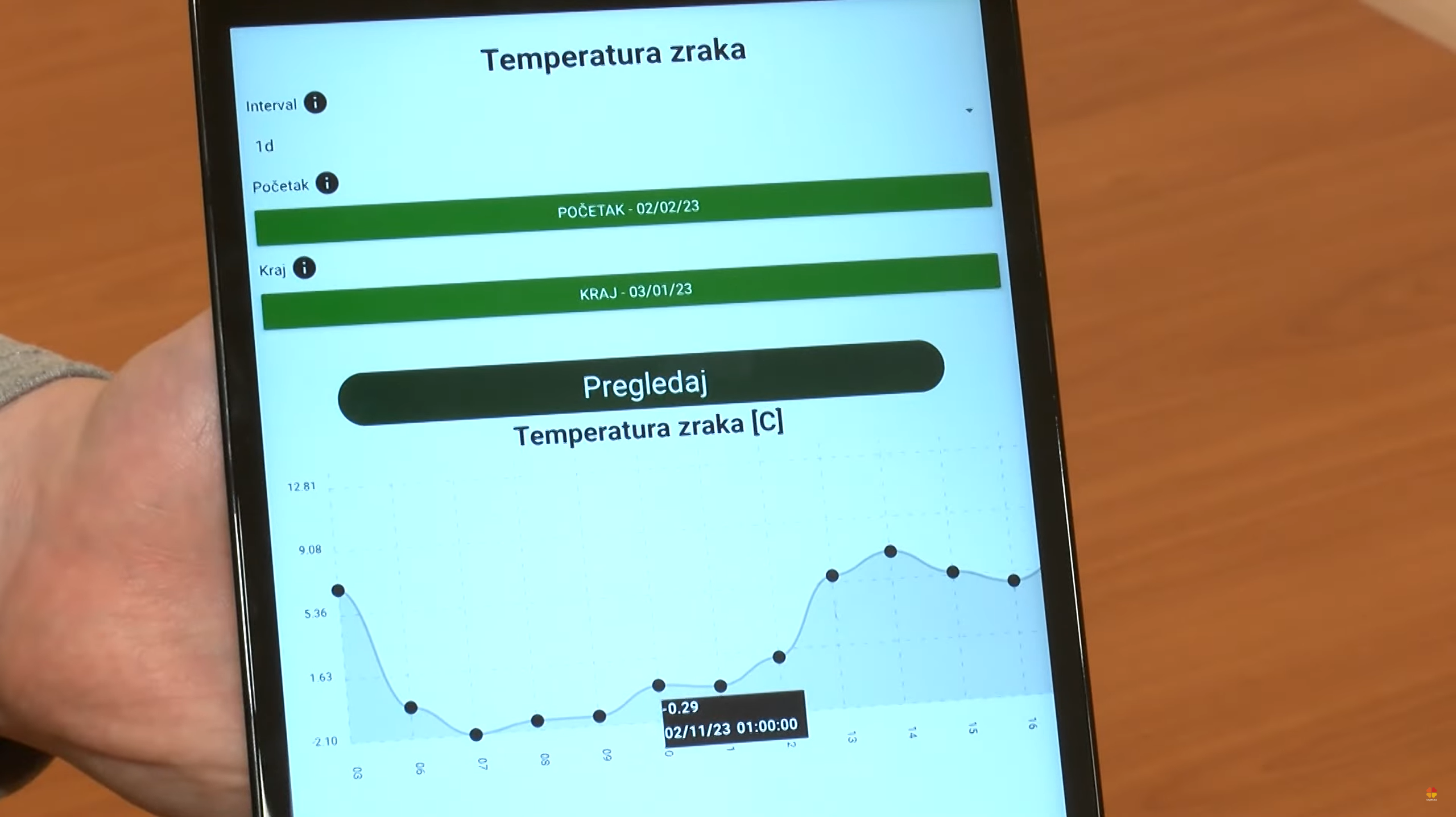 New mobile application for precision agriculture presented
The participants of the workshop "Precision agriculture and continuous data collection from the field" were presented with a software and hardware solution for monitoring the state of crops and environmental parameters in real time, which were developed during three years of project activities.
Using the developed mobile application, users can view data from different sources, i.e. sensor cells – as part of the project, a new sensor node was developed that, based on wavelengths, evaluates the functionality of plants in the field and shows whether the plant is under stress. Each sensor station may contain one or more meteorological parameters, such as soil temperature, soil moisture, air temperature, air humidity, radiation, pressure, wind speed, wind direction, rainfall, leaf moisture, etc. Each of these meteorological parameters parameters can be viewed graphically or tabularly. Users can filter cells by keywords and data by date range and by interval (1 day, 1 hour or 15 minutes).
Also, the user can view the current GDD (Growing Degree Days) which is used to estimate the growth and development of the crop during a season so that the harvest is done at the optimal time. GDD is calculated by subtracting the lower base/limit temperature of the crop (e.g. for corn it is 10°C) from the average daily air temperature. Currently, the application is adapted only for corn, but an upgrade is planned for other types of crops.
The mobile application was developed using the React Native programming language. React Native is developed on top of ReactJS, and Android and iOS applications can be developed simultaneously. The mobile application is connected to the sensor nodes via the IoT platform. The developed innovative system helps the farmer in monitoring critical periods in plant development and applying timely agrotechnical measures.
See what Ivan Kralj, the developer of the application, had to say about the application in Osijek Television's report on the held workshop!
As part of the workshop, held on March 1 in Osijek, the research team of the IoT-field project educated agricultural producers, experts and the scientific public about the possibilities of applying information and communication technologies and networked devices in agriculture with the aim of increasing the efficiency of land use and reducing the negative impacts of climate change. changes in yields and quality of crops of strategic importance for Croatia.
All presentations from the workshop, including Ivanov's on the mobile application, and additional information about the workshop, are available here.