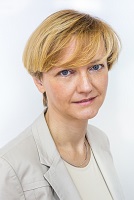 Official website with the list of all published papers
Ivana Podnar Žarko is Full Professor at the Faculty of Electrical Engineering and Computing, University of Zagreb, Croatia (UNIZG-FER) where she teaches courses on distributed information systems and Internet of Things. She received her B.Sc., M.Sc. and Ph.D. degrees in electrical engineering from UNIZG-FER, in 1996, 1999 and 2004, respectively. She was a guest researcher and research associate at the Technical University of Vienna, Austria, and a postdoctoral researcher at the Swiss Federal Institute of Technology in Lausanne (EPFL), Switzerland.  
Prof. Podnar Žarko has participated in 7 research projects in the last 5 years funded by national and EU funds and is currently leading the UNIZG-FER Internet of Things Laboratory. She was the Technical Manager of the H2020 project symbIoTe: Symbiosis of smart objects across IoT environments (2016-2018) and is currently participating in the Centre of Research Excellence for Data Science and Advanced Cooperative Systems, which is the first national center of excellence in the field of technical sciences in Croatia. She is currently advising 4 doctoral students and has advised more than 60 BSc and MSc students as well as 3 PhD students who have successfully completed their studies. 
Ivana Podnar Žarko has co-authored more than 70 scientific journal and conference papers in the area of large-scale distributed systems, IoT, and Big data processing. Recently she focuses on research problems related to IoT interoperability and Distributed Ledger Technology (DLT). She has served as a program committee member for many international conferences and workshops (e.g., IEEE Globecom, IEEE 5G World Forum, Global IoT Summit, ISCC) and is co-organizing a series of research workshops Int. Workshop on Interoperability and Open Source Solutions for the IoT (InterOSS-IoT) from 2014. She was a track chair of the 19th Annual IEEE/ACM Int. Symposium in Cluster, Cloud, and Grid Computing (CCGrid 2019) and member of the editorial board of Automatika: Journal for Control, Measurement, Electronics, Computing and Communications since 2016. 
Prof. Ivana Podnar Žarko is a member of IEEE and was the Chapter Chair of IEEE Communications Society, Croatia Chapter (2011-2014). She has received an award for engineering excellence from the IEEE Croatia Section in 2013. 
Published papers: ResearchGate, Google Scholar